BMW Steering Wheel Removal
Liability Waiver Document
Do It Yourself Articles and Guides:
All information contained herein should be independently verified and confirmed. Coby Wheel (Michael LeMon) does not accept any liability for any injury, loss or damage whatsoever caused in reliance upon such information.
Reader agrees to indemnify and hold harmless Coby Wheel (Michael LeMon) from and against any damages, cost and expenses, including any legal fees, potentially resulting from the application or use of any of our DIY information provided. This disclaimer applies to any damages or injury caused by any error, omission, or under any other cause of action.
Reader agrees to assume all risk resulting from the application of any of the information provided by Coby Wheel (Michael LeMon).
By using this web site, including any applets, software and content contained therein, the visitor agrees that the use of this web site and its information is entirely at his/her own risk.
---
BMW E46 Steering Wheel Removal and Installation Guide
TOOLS NEEDED
Long thin Flat Head Screwdriver
Torque Driver set
10mm Nut Driver
Ratchet Wrench
6" Wrench Extension
16mm Socket

INSTALLATION

1. First disconnect the battery. The battery is in the trunk on the passenger side under the black cover. Using the 10mm Nut Driver, loosen the nut on the negative & and positive terminal (to be safe)  you disconnect the cables and move it so it won't come into contact with the battery terminal.
2.  Look behind the spokes of the steering wheel. There is an indentation on either side that has a tiny slit in it. This is where you want to insert your flat head screw driver. Use a small flathead screwdriver to compress the air bag retainer springs. Gently feel around with the tip of the screwdriver until you have contact with spring press in and the spring presses back. The easiest way to find the correct angle to compress spring is with the screwdriver inserted slightly higher than the 3:00 and 9:00 spoke (see pictures) please take your time as to not damage airbag holes. Look at pictures it is easy to get frustrated during this process try to make a good note of the process.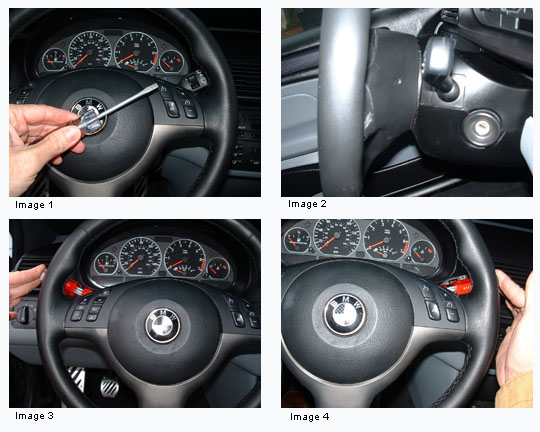 3. Make sure to make contact with spring (press firmly) while pressing in on one side pull on the airbag edges and repeat again on the other side. Sometimes one side will clamp back down so you will have to switch back and forth.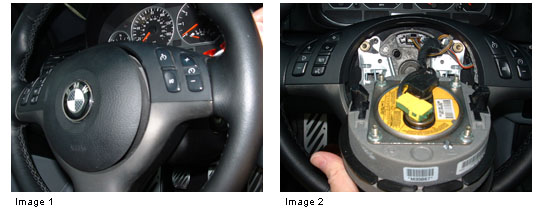 4. Disconnect the airbag by lifting up on the yellow and green connectors.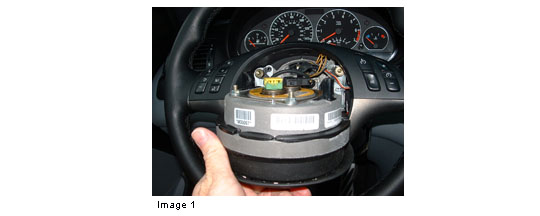 5. Inside the wheel, disconnect the 2 wires connected to the clock spring one has a locking tab that needs to be pressed while taking off the smaller wire needs to be gently pulled out.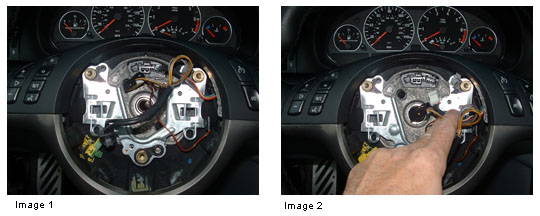 6. Use the 16mm ratchet and extension to remove the center bolt. It may be very tight if the wheel has never been taken off before so help from a friend to hold wheel firmly while you get leverage to crack the bolt would be advisable(so as to not harm steering column)
7. Take note and be sure to lineup the 2 marks at the 6:00 position (steering wheel and steering column) when you install the new wheel.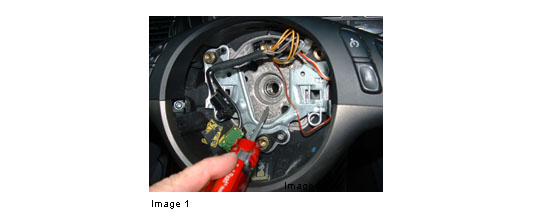 8. Take note of areas where screws are located to take off old trim. Swap over old trim, airbag spring plate and wires to new wheel.
9. Re-connect wires to clock spring and airbag take note to make sure wires are connected correctly also make sure wires are out of the way of the 2 large springs that clamp onto the airbag .Press airbag back into place.