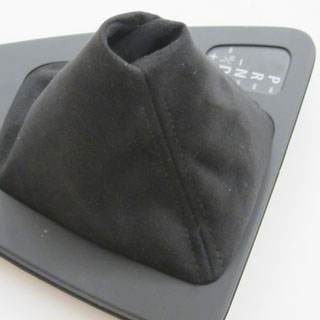 Our E90 automatic shift boots are made to order using OEM BMW patterns for excellent fit. Custom 2 tone colors are available. If you would like use our Alcantara custom colors for a more unique design or application not listed, please call or email us for a price quote and estimated production time. We also have various thread colors in stock that are not listed. Email us for more details.
Please note: Our boots do not come with the base plastic mounting ring and will require re-using current car's boot ring. If help is needed, please visit our DIY installation guides or contact us. We will be happy to install the boot to your plastic ring. If you are not comfortable in the removing and gluing process, please contact us for details.
Typically ships in 7-14 business days (Times may vary due to Holidays, Car Show season) Please call to confirm before purchase.
Want a custom color? Please call for quote: 770-789-0822.
Order an E90 Automatic Shift Boot
Enter your telephone number
Alcantara Stock Colors